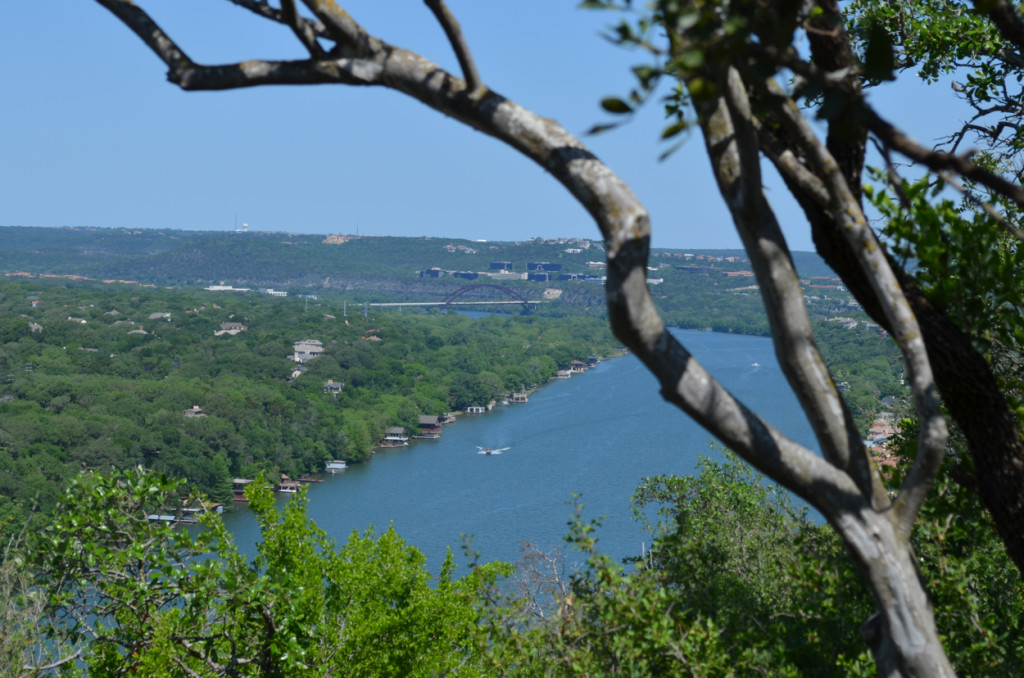 What better way to kick off our 'Destination Guide' series than to write a post about our home town, Austin, Texas.
Destination Guide- Austin, Texas
Austin is known for being a high-tech hub but it's the huge community of creative types that helps Austin live up to its reputation for being offbeat and weird.  The popular slogan, "Keep Austin Weird", seen on everything from bumper stickers to Christmas Ornaments  captures the sentiments of many old-time Austinites!  If you are spending a few days in Austin you'll definitely want to immerse yourself in the funky vibe!  Here's a small itinerary of the 'must sees' we recommend:
Enjoy a delicious vegetarian breakfast at Bouldin Cafe.  This café is located on the edgy south side of Austin and attracts a hip and eclectic crowd.
Renting a kayak, SUP or canoe is pretty much an option year-round in Austin.  This is a great way to get a little exercise and tour Lady Bird Lake at the same time.
Lunch at one of the popular outdoor trailers, we recommend, Conscious Cravings for it's awesome vegetarian and vegan options.
Visit the Bob Bullock Museum and learn the "Story of Texas" through three floors of exhibits, special-effects films, and an IMAX Theatre. Special Note:  If you are here during the hot summer months, this museum is a cool respite!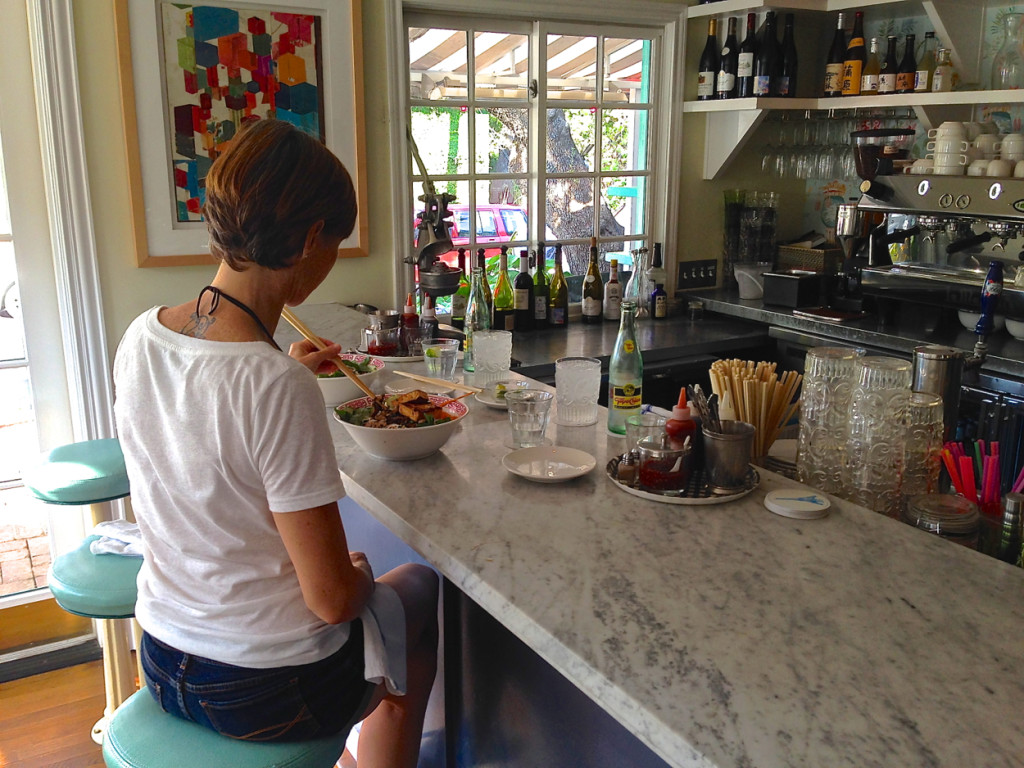 Enjoy a casual dinner at Elizabeth Street Café.  We adore this restaurant and have had many wonderful meals here with family and friends.  The fare is truly impressive with its creative fusion of  French and Vietnamese.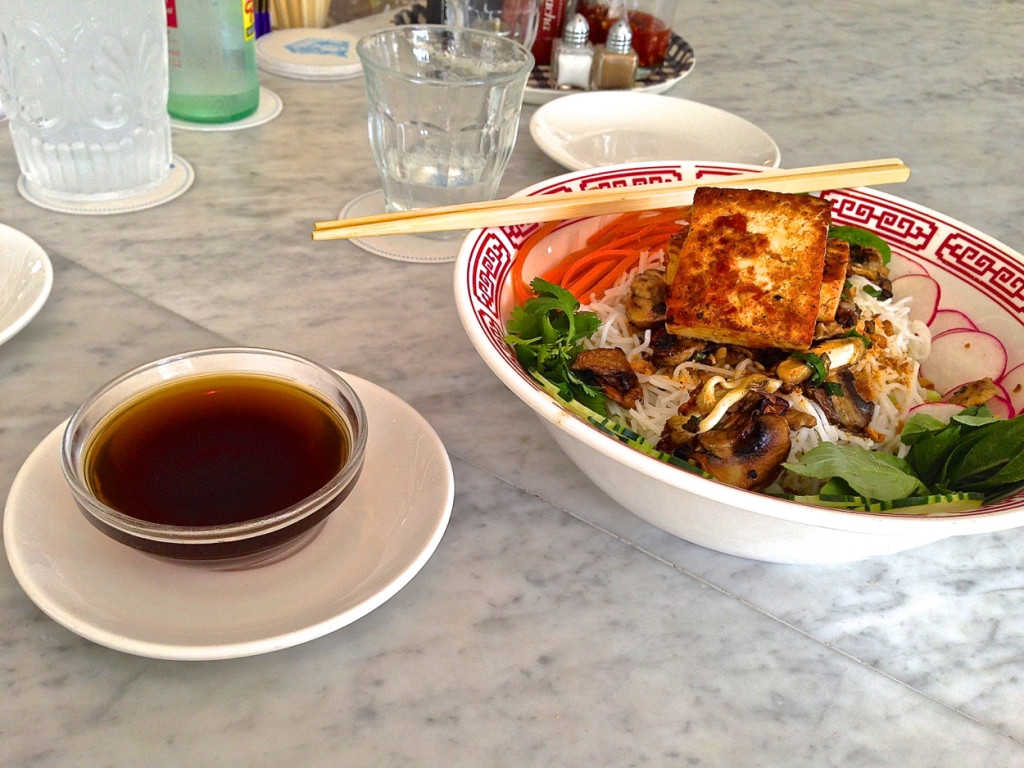 Our favorite-Bun with Roasted Mushrooms and Grilled Tofu. Yum!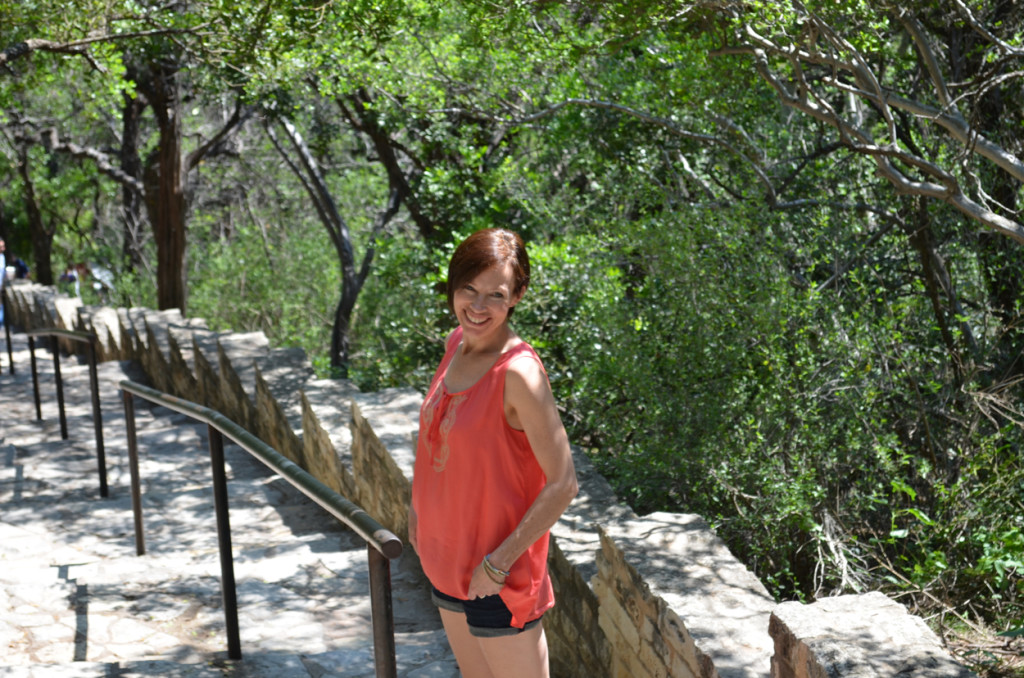 Take an early morning walk up Mount Bonnell.  A favorite attraction since the 1850s, the climb up the stone stairs to the top of Mount Bonnell is rewarded with views of Lake Austin, the architecturally interesting 360 Bridge and downtown.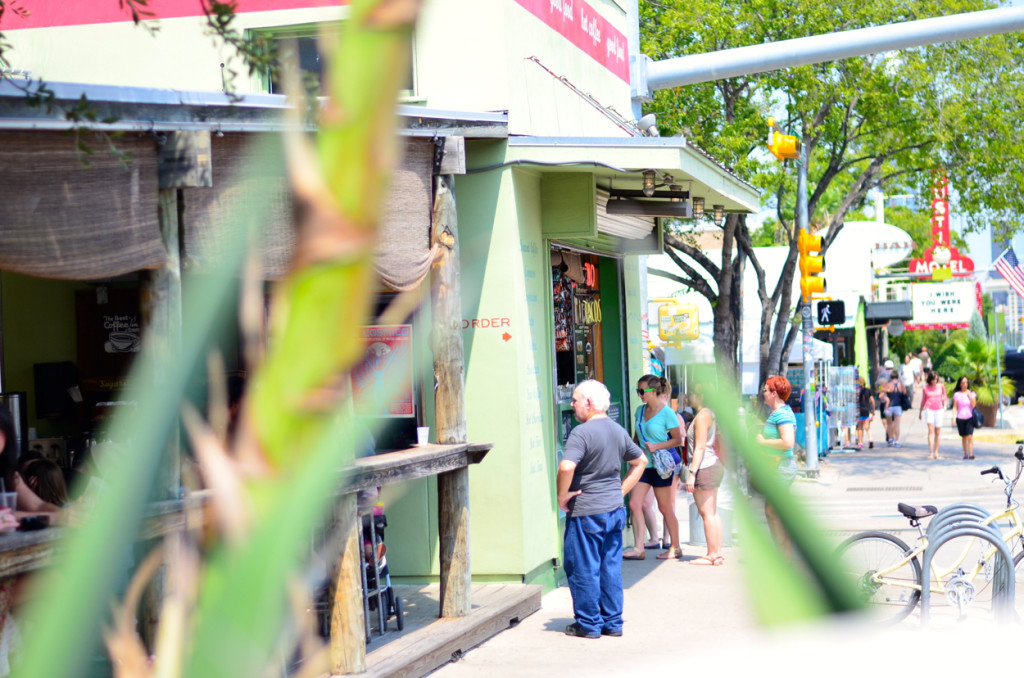 Visit Gueros on South Congress for authentic Tex Mex lunch. Tour the shops in the vibrant and creative South Congress neighborhood (SoCo).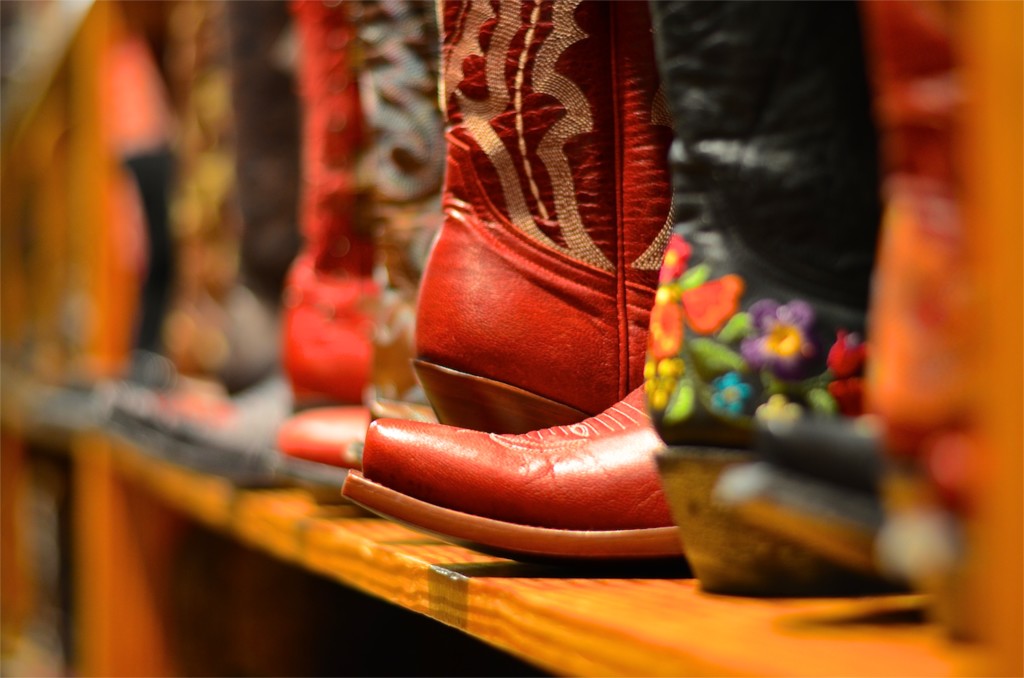 Make sure to check out Allen Boots if you are in the market for an authentic pair of cowboy boots.
It is well worth making the short drive to the up and coming East side of Austin for a meal at Blue Dahlia Bistro.  This casual French restaurant has wonderful food, reasonable prices and ambiance galore.   One of my favorite shops, Take Heart, is located next to the restaurant. Make sure to stop in and see the lovely collection of locally made artisan products.
Take a brisk walk or run around the Lady Bird Lake Trail.  You can choose from the 3, 4 or 5 mile loop. The tranquil  views of the lake make it easy to forget you are in the middle of a busy downtown area.
Enjoy a weekend brunch at Mother's Café.  This vegetarian restaurant serves great food and lots of it.  Even meat lovers will leave satisfied!
Visit Laguna Gloria.  The sculpture park, located along the shores of Lake Austin, always has an interesting contemporary exhibit to enjoy.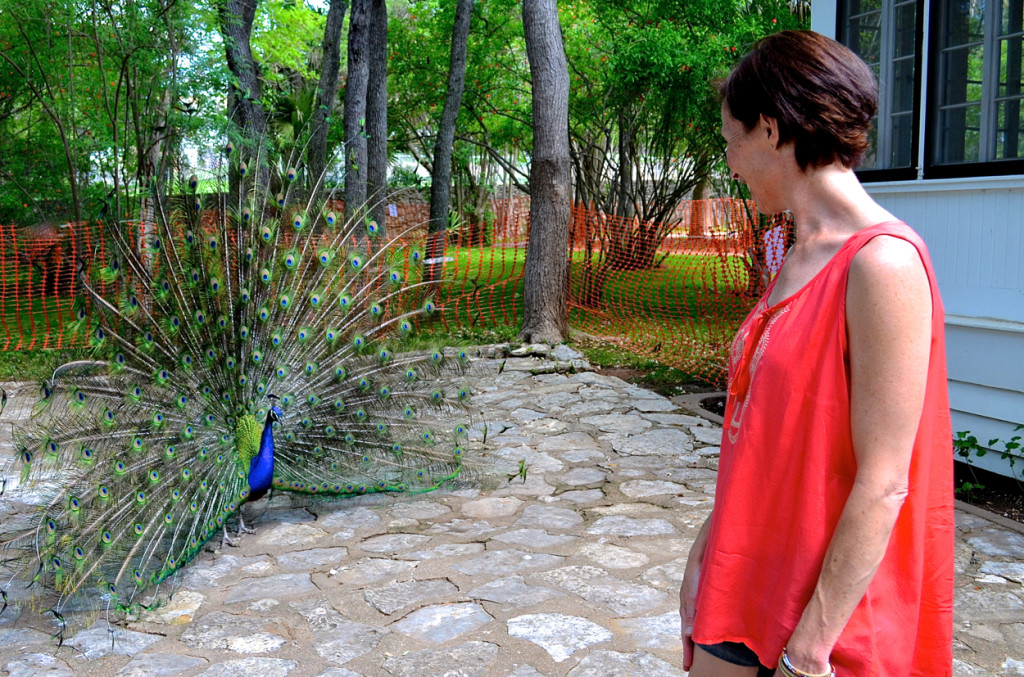 You'll want to go next door to the park and visit the peacock santuary.  These guys are very entertaining!
Eat a delicious yet affordable dinner at Takobas.  It can get loud inside so we always opt for the outdoor seating.  Oh, and you'll want to try the flan, best we've ever had!
Catch an evening movie at the Violet Crown.  This is a privately owned theater showing independent, documentary and international films.  We don't even read the reviews before seeing a movie at the Crown.  They never let us down!
If you have more time we also recommend:
The Blanton Museum–Another great place to visit during the heat of the summer…nice and cool :).  The museum houses a mixed collection from Europe, the United States and Latin America.
Women and Their Work Gallery–This is personally my favorite gallery in Austin.  I love the focus on women and the contemporary, offbeat exhibits.  They always make me think outside the box.
The Contemporary Austin–This downtown museum is a happening scene in Austin, with special events, openings and exhibits each month.
The Oasis Café-Enjoy a beautiful hill country drive to get there, great views of Lake Travis and if you time it right you'll see a stunning sunset.
Barton Creek Trail–This beautiful 7 mile trail is great for both hiking and mountain biking.  It runs alongside a creek most of the way, perfect if you are bringing along a four-legged partner.
Barton Springs Pool–A favorite swimming hole during the summer.
Zhi Tea–We've  spent many weekend afternoons hanging out here, enjoying a good read.
Franklin's Barbeque–We can't technically vouch for Franklin's being that we don't eat meat but considering they usually sell out early in the day and have a stand-out reputation we thought we'd pass their name along.
With this itinerary you'll definitely experience the finest and funkiest Austin has to offer.  We'd love for you to leave a comment with any recommendations you may have.