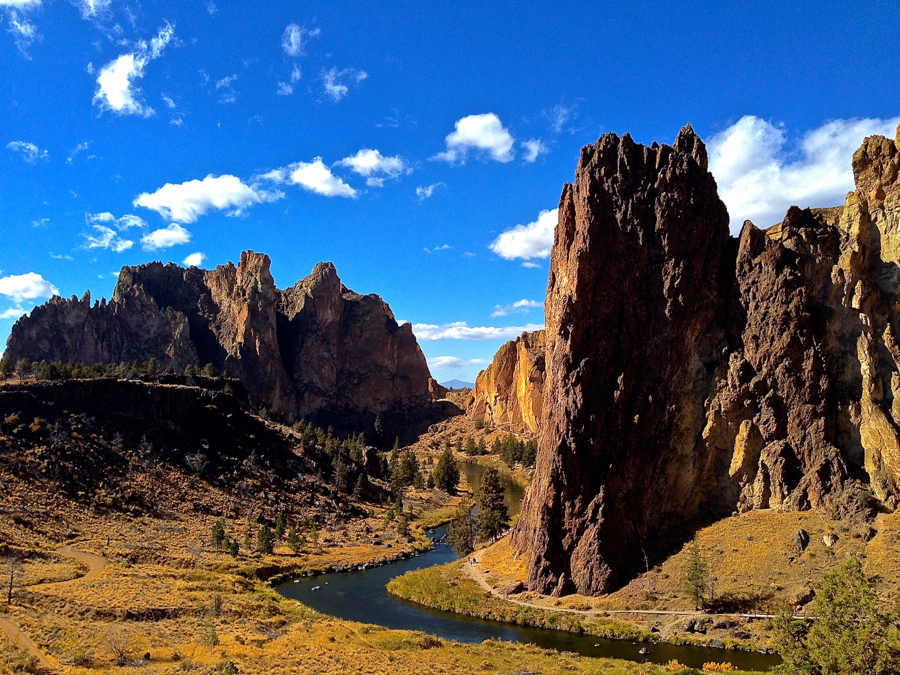 WHAT WE LOVED ABOUT BEND
OUR ADVENTURES
Phils Trail Complex rates as one of our all time favorite mountain biking trail systems.  The single track trails were fun and very doable (without risk to life and limb).  The network of trails is only minutes from downtown making it easy to do a quick afternoon ride.
Smith Rock is considered a must see if you visit the area, however, get there early.  The parking lot fills quickly.  We must circled the parking lot 20 times until we got lucky enough to catch someone leaving.  If you are a rock climber you've found your mecca at Smith Rock :)
Deschutes River Trail starts in the Old Mill area and winds it's way out of town along the Deshutes River.  Honestly, I was very happy to be on the trail and not in the class IV and V rapids.  Beautiful to see though.
FAVORITE RESTAURANTS
I'm pretty sure we ate at Next Level Burger at least once a day.  The vegan faire, served 'fast food' style, was always organic and fresh. We were so happy to learn that everything used during our meal was compostable – utensils, plates, napkins, and even the serving tray would eventually end up as garden soil.
We stopped at Mothers Juice Cafe daily for a healthy smoothie.
WHERE WE STAYED
Scandia RV Park fit our needs fine.  The staff was very helpful, giving us a general rundown of the area highlights when we checked in. (rating 4/5)
OTHER FAVORITES IN THE AREA
We loved the layed back vibe and fun energy in the area.  The people were friendly and the scenery spectacular!