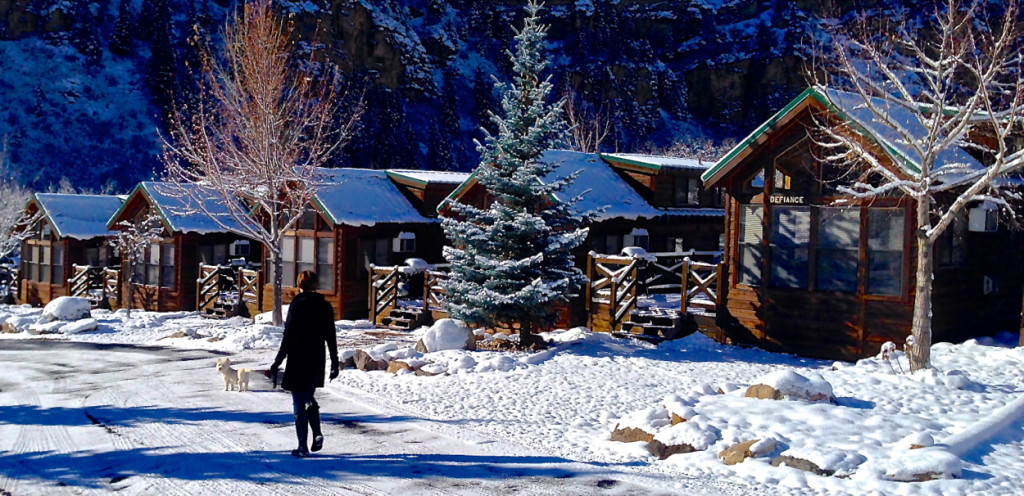 WHAT WE LOVED ABOUT GLENWOOD SPRINGS
OUR ADVENTURES
We enjoyed a relaxing day at  Glenwood Springs Hot Springs.
Yoga at True Nature Healing Arts rates as one of our best yoga experiences ever!  The building and grounds are beautiful but more than that, the peaceful, warm energy felt from the people and surroundings was off the charts wonderful! Rating – 5+/5 stars
We felt really lucky to have Glenwood Canyon Recreation Trail within walking distance from the Airstream.  This 16.2 mile paved trail ran along the Colorado River, allowing us to get some running and biking in each day.
We had fun hiking other local trails in the area.  It truly is a beautiful place.
FAVORITE RESTAURANTS
The Pullman restaurant offered delicious faire made with a surprising and fresh combination of ingredients.
It might seem strange to have two vegans listing Smoke Modern Barbeque on their list of favorites but the Sunday brunch they offered was amazing!  We decided to have the french toast and accept we'd be eating a small of amount of eggs that day. Sooo good!
WHERE WE STAYED
We basically had  Glenwood Canyon RV Resort all to ourselves in October.  I'm sure during the summer months this place is hopping given their fun amenities;  zip line, ropes course, guided rafting tours.  Rating – 4/5 stars
OTHER FAVORITES IN THE AREA
The Midland Gym satisfied all our lifting and cardio needs.  The staff was friendly, facility clean and they make great smoothies :)  Rating – 4/5 stars
Natural Grocers helped us keep a fresh supply of fresh veggies, fruits and healthy fare.