It seems each location we drive away from leaves us wanting more, and Sedona AZ was no exception.  Sedona is as beautiful as it is fun.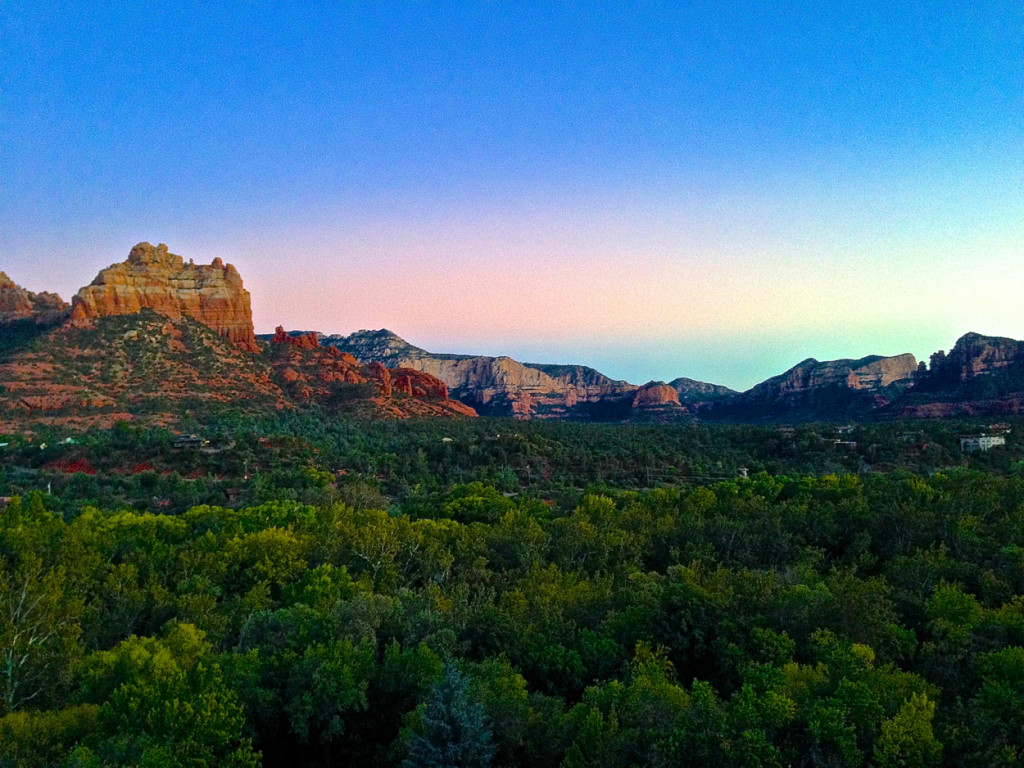 Great place for the adventurer and foodie!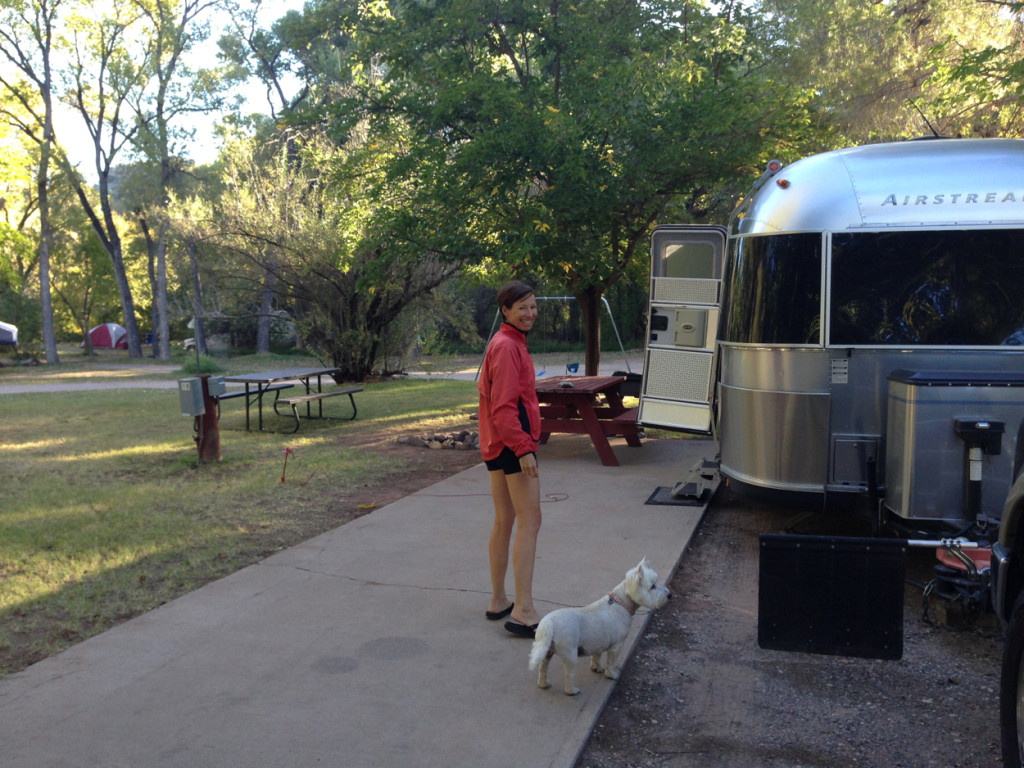 We stayed just 20 minutes outside of Sedona in an unexpected little gem of a place named Lo-Lo-Mai Springs Campground.  The campground sits along Oak Creek and is surrounded by branches of ancient cottonwoods and soaring sycamores.  It is quiet, clean, has full hook-ups and boasts some pretty nice amenities; swimming pool, basketball court and laundry facility.  Great place to hang your hat while you enjoy everything Sedona has to offer.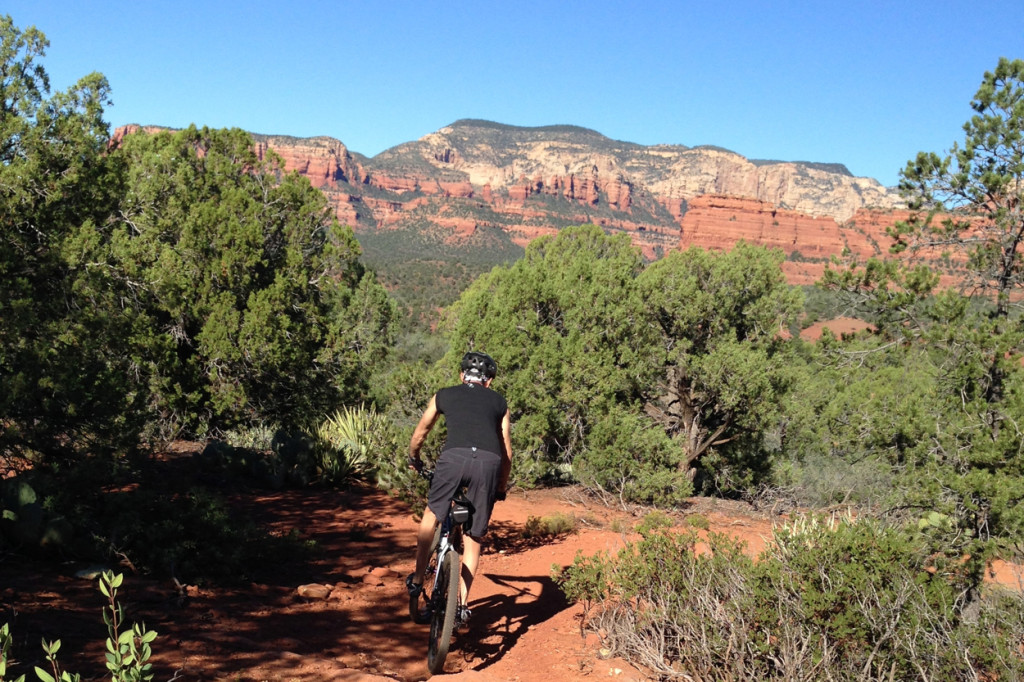 You can't take in Sedona without taking in the amazing hike and bike trails!  So grab your hiking shoes and bikes (rent a bike if you need to – you won't regret it) and plan days, yup, days of hiking and biking.  The bike trails can range from novice to pro.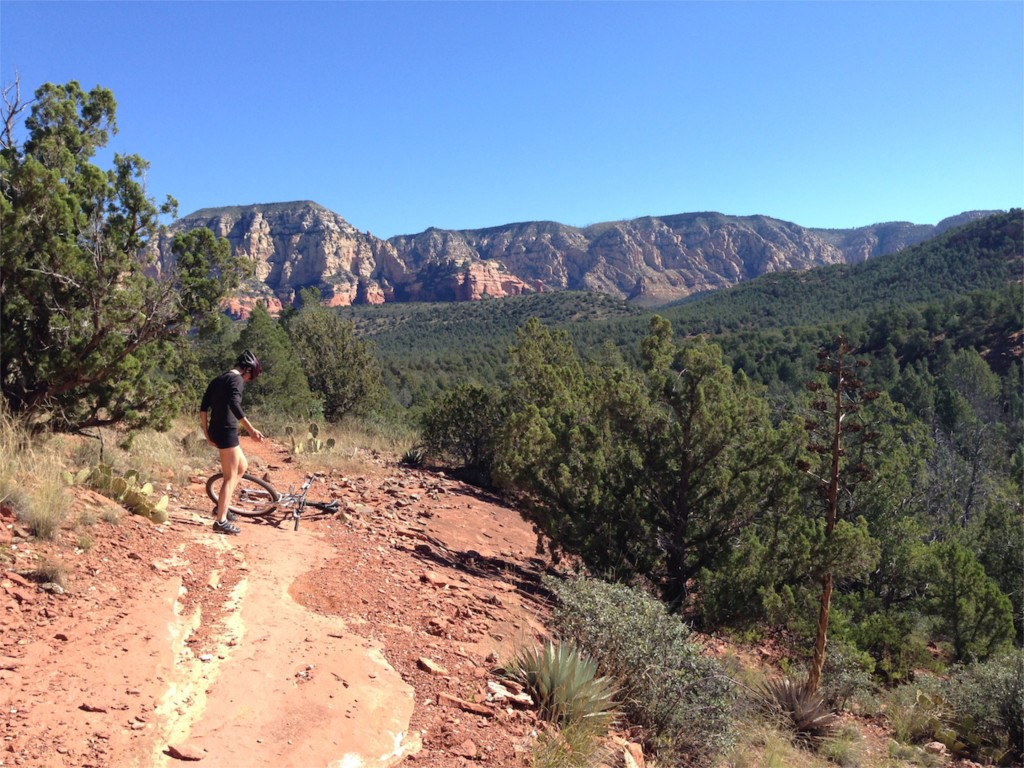 We started our bike adventure on Chuck Wagon Trail and biked for several miles before looping back.  We found, actually I found after falling and finding the only cactus for miles around that we needed our tires upgraded to take on some of these rugged trails.  Whew!  Glad I had the camera and not Kat or the pic above would have been of me with a cactus stuck in my leg.  Kat took a small spill – I think she felt sorry for me and took one for the team to make me feel better.  LOL!
We truly appreciate the guys at Over The Edge Sports for hooking us up with some awesome Specialized Pro tires.  They not only upgraded our tires they tossed in a minor tune-up for free – just the kind of people they are.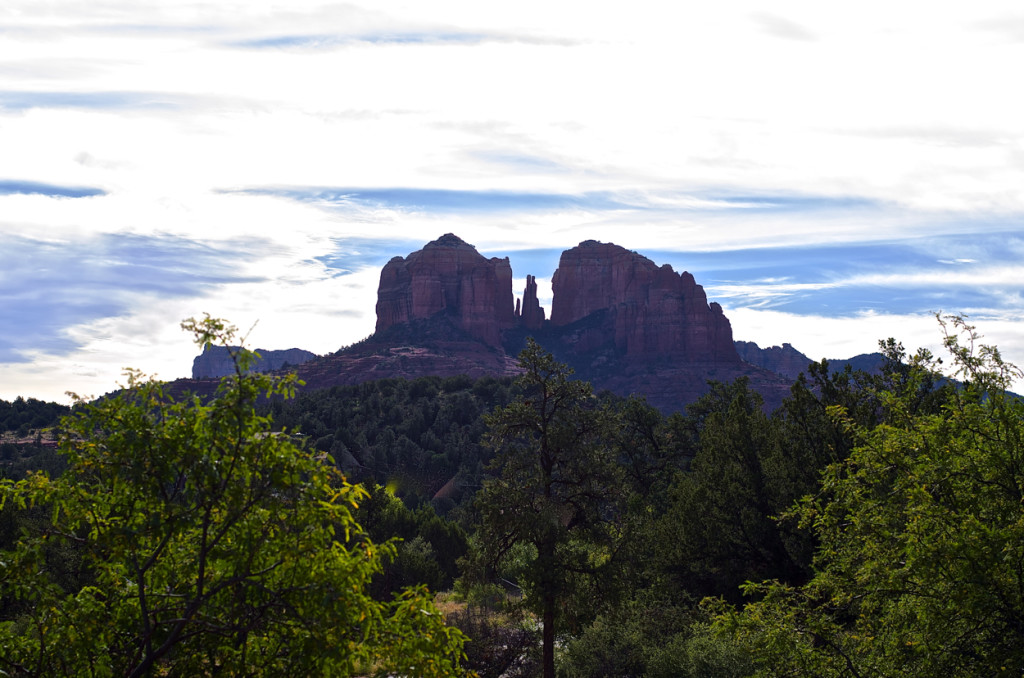 The hiking around Sedona was fantastic!  The trail leading up to Cathedral Rock was just stunning.  You have a couple of choices of where to start your hike.  You can start from the base or, like us, start 2miles out from Red Rock State Park via Red Rock Crossing.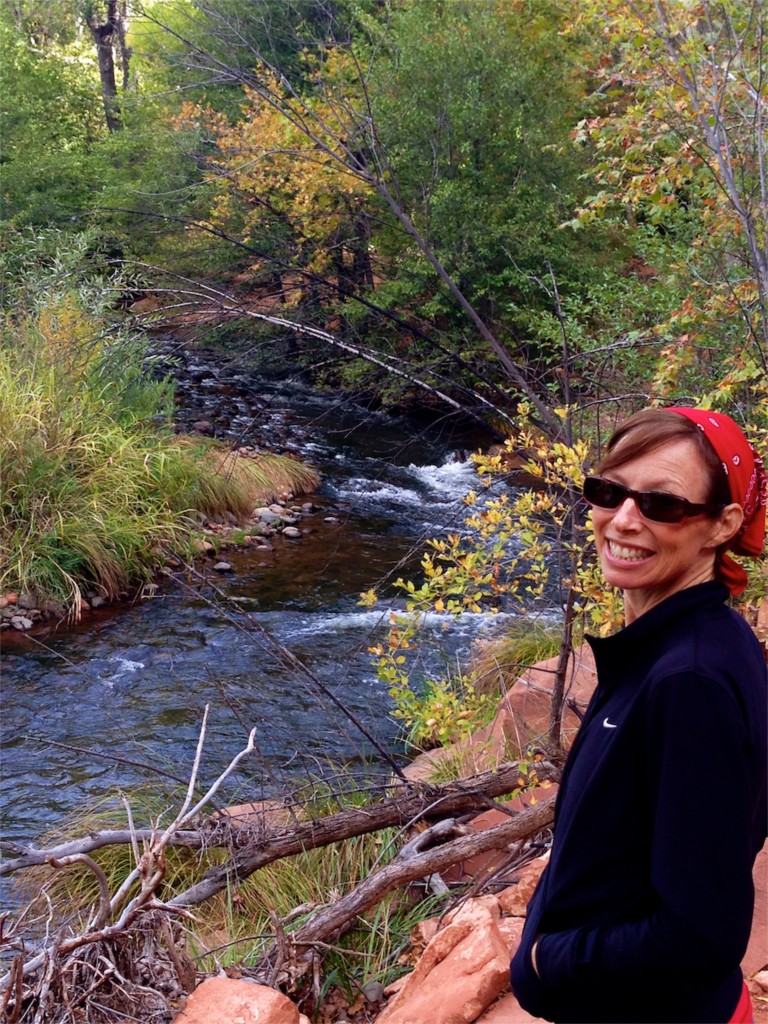 A short-cut across the river (the water was cold but shallow) and then up to the very top of Cathedral Rock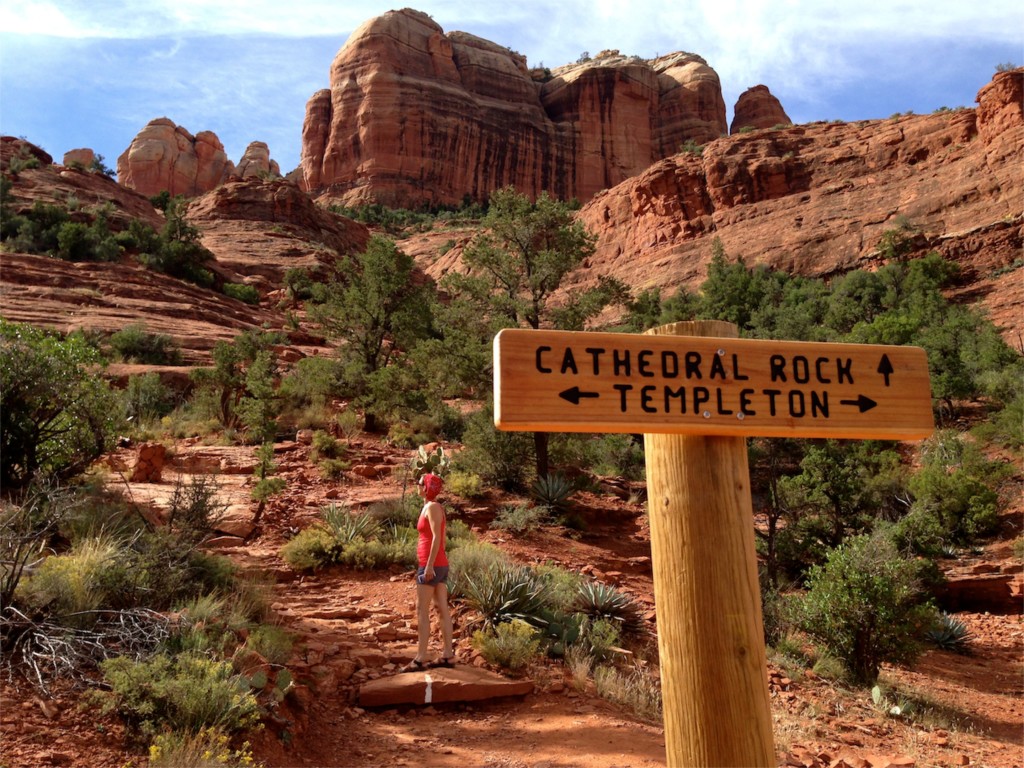 There's no part of the trail that does not challenge and take your breath away.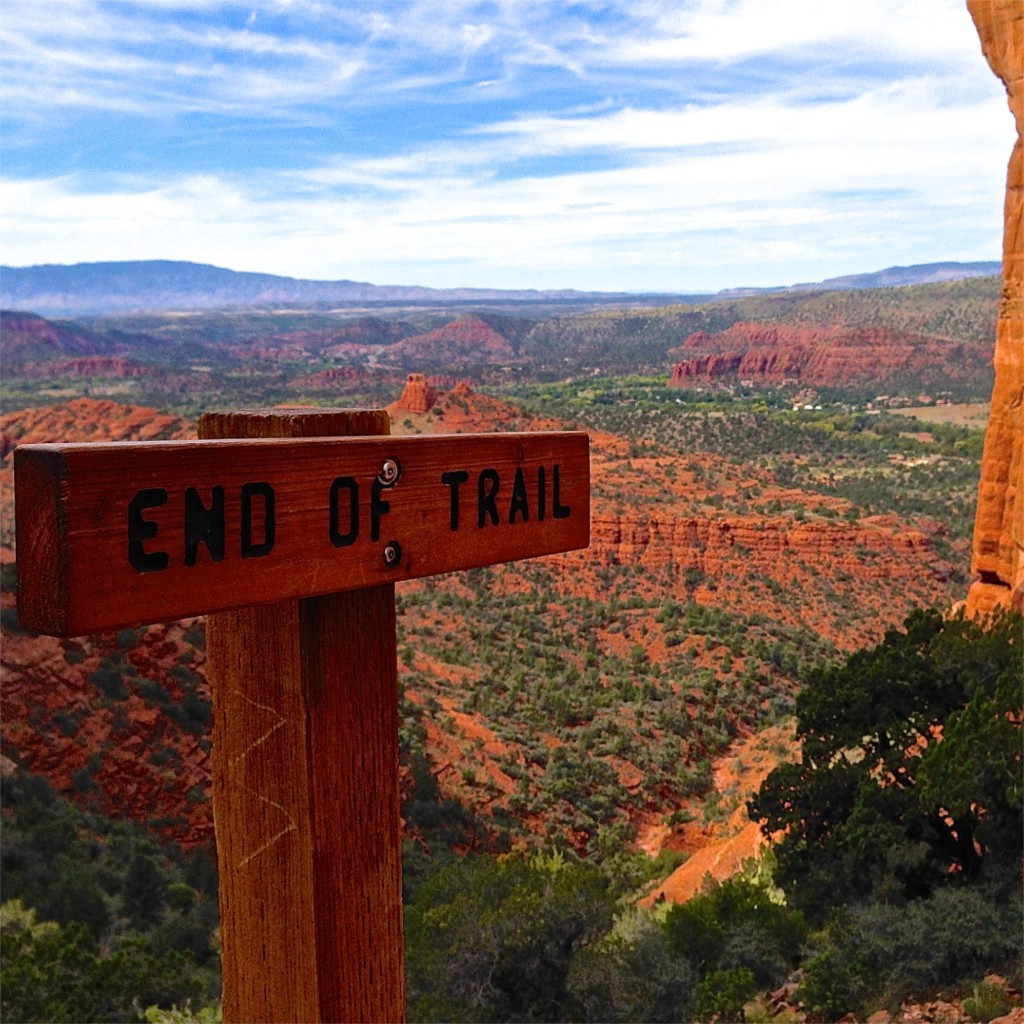 Once you hit the top or "End of Trail"…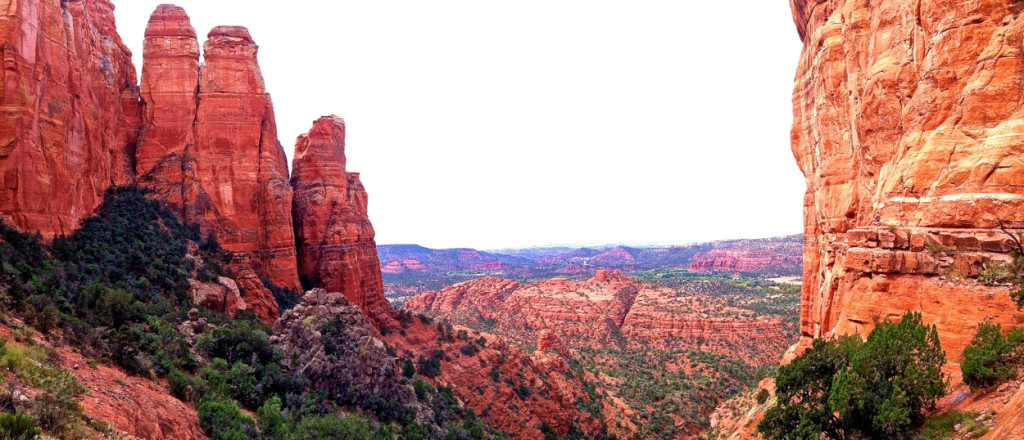 you'll know it was worth every step.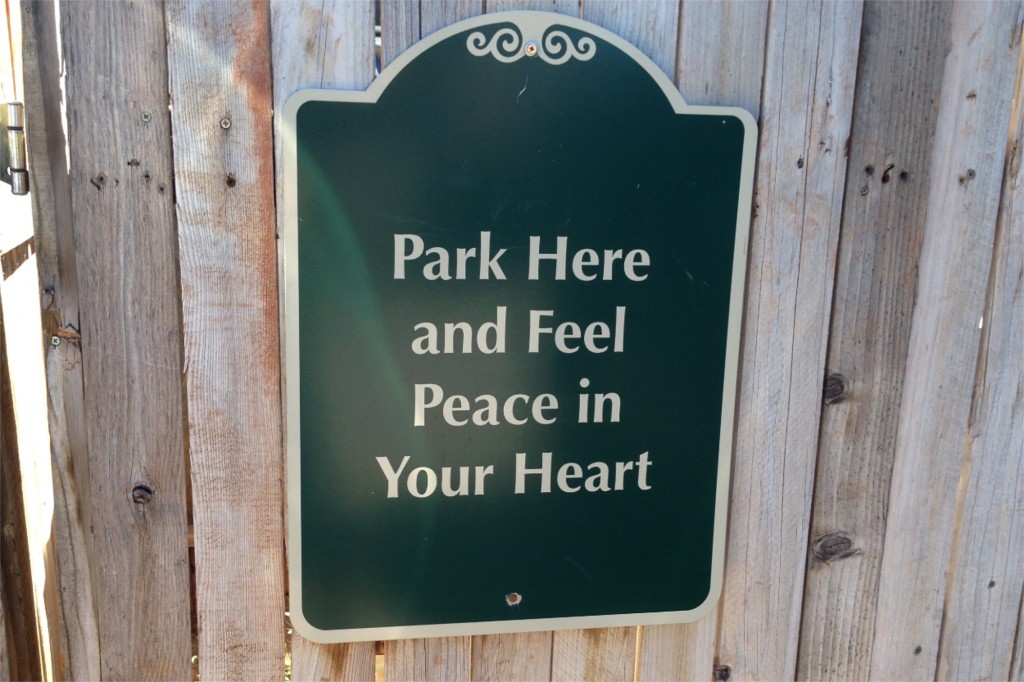 After an amazing day of hiking we looked forward to eating at Chocola Tree.  They had the most delicious food AND desserts to quench our organic palet.  Some places can make you "feel good" after walking through the doors, but Chocola Tree helps you feel peaceful…just parking your car.
You're greeted with a genuine warm welcome along with rows and rows of yummy home made chocolates.  Willy Wonka has nothing on this place!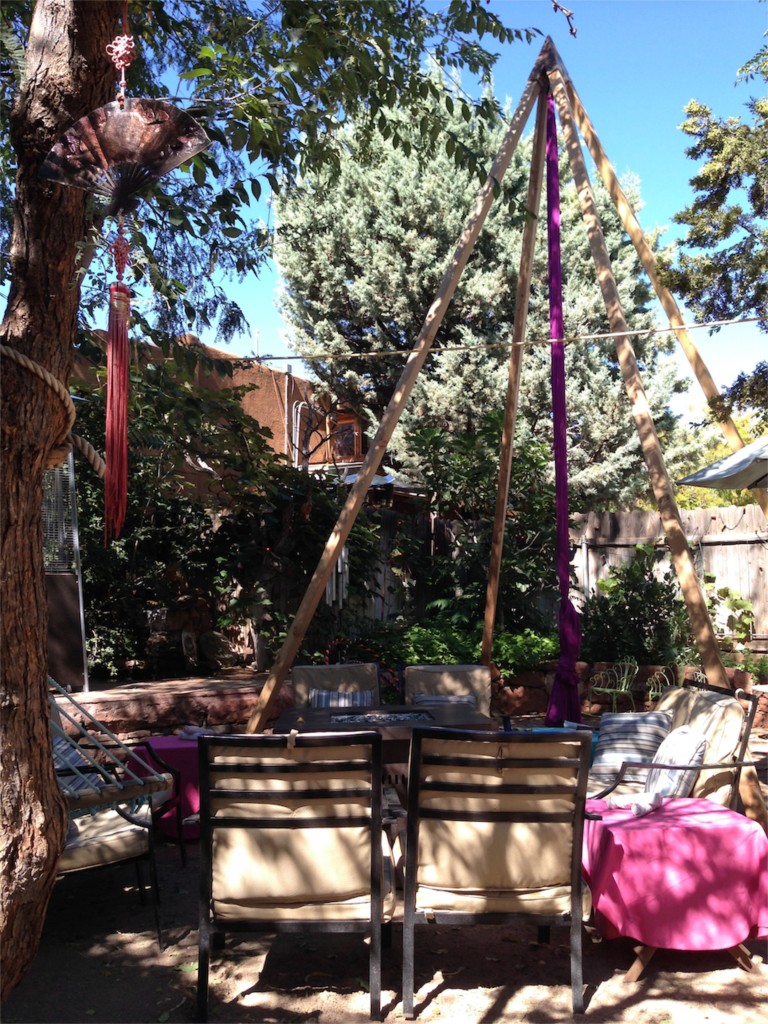 If weather permits, I recommend sitting in the backyard – you have a choice of a table or (wait for it) a hammock to enjoy your meal.  It's so beautiful and peaceful.  The lemonade (sorry Mom) was hands-down the best I've ever had in my life!  Actually, the food was so good; we gave up finding a new place the next day in order to return for more of the yumminess Chocola Tree had to offer.
Oh, and in the pic above, yeah, that's an aerial ribbon – add a little adventure to your lunch.
Bellies full, it was off for some shopping downtown while taking in the Sedona landscape around us.
We made some new friends along the walk, which for some odd reason made me hungry again.
Hiked and biked the next day and topped it off with a great vegi pizza at Picazzo's Organic Italian Kitchen.  Great menu, restaurant and atmosphere.
There are fun times to be had in Sedona and I'm sure we missed a ton of neat hike/bike trails, restaurants and shops to visit, BUT, there's always plans to return.
Tell us about your favorite places and recommendations for our return trip – We love adventure, fun food and meeting new and interesting people.
-adrian
(photos by Adrian)